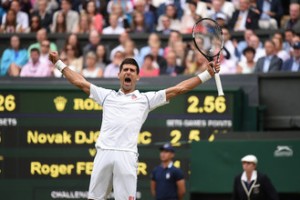 I was given the privilege of watching men's tennis final on Sunday with a glass of prosecco with the best summer fruits.
Novak Djokovic celebrated as he bet Roger Federer during their Wimbledon final on Centre Court on Sunday afternoon. His athletic and tennis skill continue to amaze the crowd.
The world number one celebrates his successful defence of his Wimbledon title by beating his chest, talking to the heaven and touching the ground with humility. He was eating the grass on the ground on the Centre Court in front of the cheering crowds.
In my own opinion as a Chinese Astrologist the champion Novak Djokovic is a hot temper Rabbit with wisdom as he was born on 22/05/87, a summer Rabbit. The character of Rabbit also means Yin Wood in Chines Astrology Reading. Yin Wood is the position where the Sun rises. Therefore in Feng Shui study Eastern-position has become a habit of spiritual position. Therefore Rabbit people are spiritual believers who have faith in the spirit world. Yin Wood is a spiritual communication password.
In Chinese Astrology the month of his birthday is a "Lonely Star" meaning he loves to keep himself to himself. He always like to creates boundaries keeping others at distance and doing things that he likes to do in his unique way. This "Lonely Star" is also a spiritual star in Chinese Astrology.
He talks to heaven and touches the Earth and communicates with grass politely (he didn't really eat it.) He was the king of the Centre Court on Sunday afternoon 12 July 2015 by winning the Wimbledon final. Heaven above him, the Earth beneath him and he is a human standing between Heaven and Earth. In Chinese writing when the man stands tall as if his head is touching the heaven and standing firm on Earth when joining them together he becomes the word of King.